Pendants are among the most popular and most widely-varied styles of lighting. They're also broadly defined, so many lights can fit under the pendant umbrella. The word pendant refers to any hanging lighting fixture that is mounted on a chain, stem, cable or wire.
Pendants are very useful because they can either aim directed lighting down onto a surface or provide general ambient lighting. They are often used for task and decorative lighting needs as well. Another benefit of pendants is that they can fit in any space since they come in sizes both big and small. Their versatility also means that there are styles of pendant to fit any taste.
This pendant light buying guide will help you learn what you need to know about this popular style of lighting. You'll learn about the types of pendants, how to use them and how to find the right size for your needs. People often buy pendants with the intent of keeping them for a decade, so this is an important buying decision!
If you need more help or advice about pendants, call our trained lighting specialists at 1-866-688-3562.
Pendant Styles
Most pendants will fit into one of these three decor styles. If you don't know what kind of decor style you're looking for, here are some examples of each style: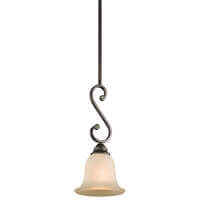 Traditional: Traditional style pendants often showcase elegant designs adorned with decorative flourishes. You'll also find traditional lights with looks inspired by classic decor styles and eras.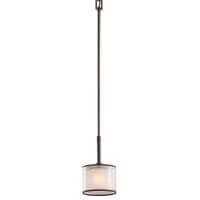 Transitional: Transitional style pendants feature a less adorned and more streamlined look than their traditional cousins, but do sometimes still have the same touches of vintage-inspired style. Transitional is very versatile.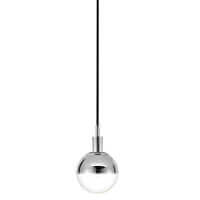 Contemporary: Contemporary style pendants are very streamlined and minimal in appearance. They are sometimes, though not always, little more than a cord and a light source.
Pendant Types and Uses
Here's a look at a few general types of pendants and how you can use them in your home.
Drum pendants: these lights feature drum-shaped shades. Three common materials for the shades are fabric, glass and metal. Fabric shades soften the lights' glow, glass shades give off the most light and metal shades make a subdued shine. Drum pendants often have more than one bulb and are as bright as traditional chandeliers.
Mini pendants: these pendants are small and slender, often used in multiples and available in a huge range of finishes, shapes and styles. No matter what you're looking for, there's bound to be a mini pendant that will fit the bill. These are used in all sorts of applications: kitchen islands, bathrooms, tables, bedrooms—you name it!
Linear pendants: long, usually rectangular pendants that can be used to light up a kitchen island, dining table or pool table.
Globe pendants: as you may imagine, these pendants have a round shape. Sometimes there are glass shades and sometimes the bulbs are fully exposed.
Oversized pendants: larger-sized pendants that can often be used solo, whether to light a room or to illuminate a kitchen island.
Anatomy of a Pendant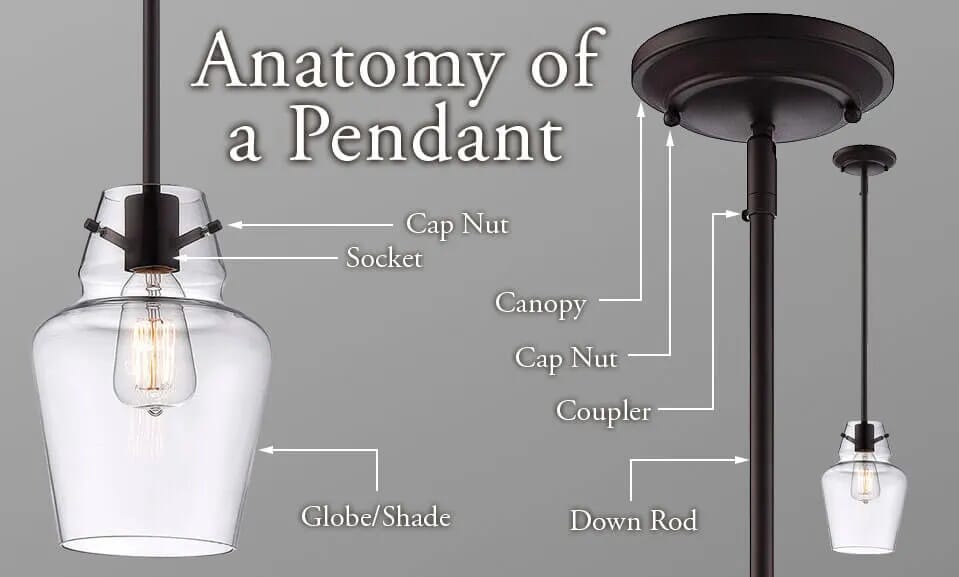 Cap nut: A dome-like cap that covers exposed bolt ends for safety and a clean look. Sometimes also called acorn nut.
Socket: Where the light bulb is screwed in and held.
Canopy: The base of the pendant, which attaches to the ceiling.
Coupler: Designed to connect two different objects together. Sometimes also called an extension nut.
Down rod: Allows the light to hang down from the canopy. Often can be adjusted to suit your space's needs perfectly.
Globe or shade: Encases the light bulb. May be transparent, translucent, opaque or not present
Sizing Pendants
Choosing the right pendant size depends on where you plan to use the light and what type of pendant you want.
For using pendants above a table or island, measure the width or diameter of the table, then look for pendants that are between 2/3 and 3/4 of that width or diameter. Remember that a fixture with a complex or busy design will look larger than it actually is.
For using ceiling pendants as general ambient lighting, measure the length and width of the room you want to light. Add them together and then consider that number the ideal width of your fixture in inches. (Example: A room that is 8 by 10 feet would get great light from a fixture that is 18 inches wide.)
Ceiling pendants should hang about 12 to 20 inches below an 8-foot ceiling. Add 3 additional inches for every additional foot of ceiling. Remember to have at least 1 foot of clearance for people walking below the pendant.
For hanging a pendant above a table, start with 28 to 34 inches above the table as a rough guideline, but consider the different sight lines and heights of your home's occupants so no one gets light glare in their eyes or bumps their head on the pendant.
If you choose to have a row of pendants over a kitchen island, place a pendant every 2 feet or so above the island. Rows of pendants are often mounted at the exact same height to provide uniformity, although arranging pendants hung at different heights is an interesting idea for eclectic design.
Remember to be proportional! Small pendants in too-large spaces and large pendants in too-small spaces are not ideal.
Are you ready to pep up your home with pendants? Explore our full selection of pendants now.
Read our other buying guides: Bath Lights – Ceiling Fans – Chandeliers – Outdoor Lights