Is football your thing? Do you gather around the TV on every given Sunday to watch your favorite team faithfully? Do you spend all day glued to Red Zone? Invite friends over to watch the game? (Or maybe a different sport is more your thing. I'm a hockey fan, for example.) No matter how you experience football, it deserves to be watched while your room is lit well.
Whether you have a dedicated media room for watching football (while it is referred to as a man cave here, don't feel limited: women are avid sports fans too!) or you're looking to spruce up your living room, here's the playbook you need so you can have the perfect man cave lighting for whatever sports season you prefer.
As in any other room, the most important thing here is to layer your lighting. There may be times when you want every light in the room to be on at full strength (Sunday afternoon games) and other times when you want something more dimmed and moody (those London games that'll be on earlier in the day). Layering lighting and using dimmer switches are two strategies to help you achieve these goals. There are three main layers to think about here:
? Ambient lighting. You can get this in a football-watching room with an overhead fixture like a flush mount, semi-flush mount, chandelier, large pendant, track lighting, etc. You can also use a scheme of recessed downlights to provide ambient lighting. Do not rely solely on ambient lighting to provide your illumination! That's like depending solely on your offense and not strengthening your defense.
? Task lighting. Probably the most common way to achieve this in the room is with table lamps. If you need a little more eye-level light so you can see your laptop screen and check your humorously-named fantasy team, a table lamp is an excellent idea. If your media room also has a pool table, take a look at linear lights to go over it.
? Accent lighting. This is a great way to highlight any cool memorabilia you might have in your room. Track lighting can count as accent if you point each head right at something like a row of framed game programs. Small puck-shaped under-cabinet lights can be mounted above built-in display cases to show off that football you managed to get Tom Brady to sign somehow. Sconces, which you often find on the walls of movie theaters, are a cool addition to the walls.
Maybe you want to just look at some great pictures, though, like looking at amazing touchdown videos from your team's Super Bowl year. (In some cases, you're asking "which one?" In others, you're crying "I wish!") Here's some game film for the visual learners among us. I'll break it down for you.
There's a lot to like about this space, which appears to be in an attic instead of a basement. The rich cobalt wall (and ceiling), the use of different colors and textures, plus all the lighting! Those glassy pendants on the track and the lights around the TV are very impressive.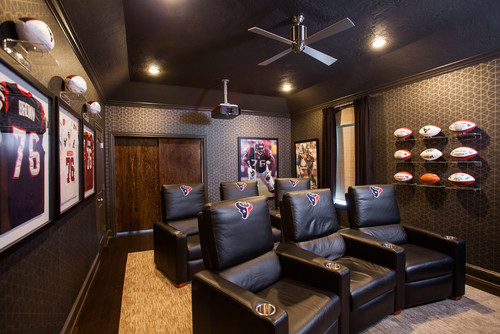 It's not hard to figure out what team this person likes, huh? But they include an element that is especially important in hot, hot Texas: a ceiling fan! Add a light kit to the fan and it becomes ambient light. I like how the walls are washed with even accent light.
This room eschews the leather-recliners-with-cupholders look for something different. Those chairs look awesome–and they look long enough that you can put your legs up and recline! Note the large overhead drum pendant, the downlights in the ceiling, the lighting for the memorabilia walls and the way the stone feature wall is accented with light.
This room keeps it classy with some ornate chandeliers! The displays in the very back and on the right side use puck lights to illuminate balls, jerseys and helmets. Sconces in the back highlight a little seating nook that's away from the action, maybe so losing team fans can mourn quietly as their season is ruined. There are actually 3 TVs in this room, but they're in wood frames, so they look super swanky.
Stylish lighting over the bar and in the back of the room, along with downlights studding the ceiling, create a very thoughtful and intriguing look. One enormous TV and two smaller teammates? Sure!
Alright, this is possibly the mack daddy of all media rooms, the proverbial 1972 Miami Dolphins of sports spaces…Ladies and gentlemen:
Yes, those are blue LED lights illuminating the liquor from underneath and indeed, that's a neon Jaegermeister sign above the TV showing tennis. This trio of TV is flecked with framed fun and there is also a ticker, but there's a fourth TV over the fireplace, lamps on the mantle, cove lighting in the ceiling, blue lights under the recliners, a little nook to eat at and a glorious bevy of Cincinnati memorabilia. This one photo doesn't really do it justice, so check out the other angles too. This actually used to be a house's great room, but impressive woodworking transformed it into this beauty.
Couldn't help but slip a hockey-themed room into this post. I'm positively drooling over that feature wall adorned with jerseys (although I do wonder if they collect dust)–among the ones I can easily read are Mario Lemieux, Evgeni Malkin, Sidney Crosby, Maurice Richard, Henri Richard, Jean Beliveau, Gordie Howe, Sergei Fedorov, Bobby Orr (the greatest of all time), Alex Ovechkin, Joe Sakic and Henrik Zetterberg: greats from yesterday and today. I also spy some USA Olympics jerseys framed on the left wall. The pendants over the bar and the under-counter lighting make this area inviting.
If you need more advice about how to light your media room, feel free to drop us a line! We're on social media or you can call us at 1-866-688-3562.
Photos from Houzz. Photo credits in alt tags.